Easy Speak Seattle is a sequence of open microphone gatherings on Monday nights.  I love these things and I love the regulars.  I'm always there, unless I'm out of town.
Good performers, generous and attentive listening, and a supportive crowd who appreciate a broad spectrum of poetic and musical styles.
Musicians and writers, please come and give us your work and listen to others say theirs.  Your pieces will receive close attention.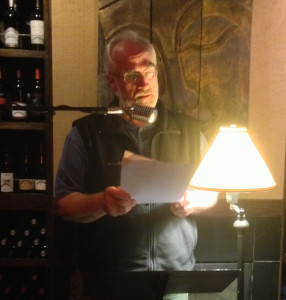 The Easy Speak collective was started by Jed Myers as NorthEndForum.  Sadly, the NorthEndForum has ended its run.  However, the Easy Speak joy continues:  I curate an Easy Speak open mike on the second Monday of the month, at the Wedgwood Ale House.  T. Clear and James Yarwood curate Easy Speak Hummingbird on the fourth Monday, at the Hummingbird Saloon in Columbia City.
Please visit our Easy Speak website to find times, locations, etc.